I am not into Halloween nor playing "dress-up" or costumes. Never really was, even as a child. Yes I dressed up for Trick-or-Treating when I was little but past 4-5th grades? Not really. I don't even dress up to take Charlie trick or treating.
Robert and I did dress up for my BIL's surprise birthday party last year but that is unusual for us.
Yesterday while doing laundry I had the TV on as usual. I couldn't find anything I wanted to watch and while switching channels came across "Heroes of Cosplay" on the SyFy channel.   It seemed interesting so I watched it. Cosplay stands for Costume Play using accessories and costumes to represent a specific character from a wide variety of genres.  Manga, Anime, comic books, scifi/fantasy, video games, and movies are the normal sources for characters. Cosplay has moved beyond the "nerd/geek" realm into the mainstream.
BIG MISTAKE!!  Now I'm all distracted by ALL the SHINY!  For the first time EVER I want to make a Halloween costume for myself. I have started to research online simple costumes to either sew or cobble together. I have been looking at the Sugar Rush Racers from Disney's Wreck it Ralph! movie.  I think I have decided on Taffeta Muttonfudge. My costume will not be up to Cosplay standards by any means but I'm kinda excited about it.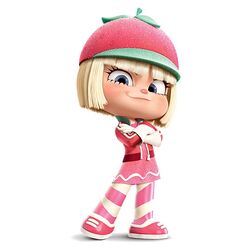 While grocery shopping at Wal-Mart, I hit the jackpot. I found hot pink leggings in my size! Plus a hot pink lightweight jacket perfect for the costume! Both need minor modifications but the Cosplay gods are smiling on me! I also picked up a blond wig and white gloves. I will make the dress and need to find pink sneakers. TADA!!
If you are interested in more than the current Halloween costumes or want a non-slutty costume check out the various cosplay websites. You will find tons of inspiration on everything from steam punk to movie characters to anime to book characters and more. You can check out my friend's website with various costumes ranging from Dr. Who to anime to historically accurate costumes at Bank of Mom.  Sandi also posts pictures on deviantArt as LadyNyneave.
Do you dress up for Halloween? Do you cosplay?